I was digging around the ever excellent Arcade Flyer Archive earlier this week looking for some images of men and women playing video games together. While I found quite a few of what I was actually looking for, I'm most fascinated by an image I wasn't looking for. Behold this bizarre and beautiful 1971 Computer Space advertisement.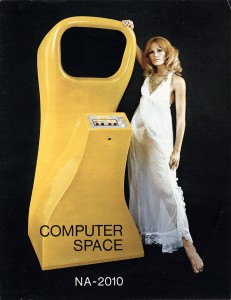 This flyer is a bit of a nod toward the booth babe era of video game marketing. Flyers like this one were intended to sell games not to consumers, but to distributors and operators. While the back of the flyer (below) features more technical information on the game, the flashy full-color front has no information about the game aside from displaying what the cabinet looked like. No one is playing the game. The game isn't even turned on. It could just as well be a statue.
It's a thing. A thing with a model in a transparent nightgown and a gold multi-strand necklace leaning against it. It might as well be furniture.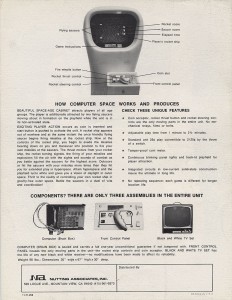 The front of the flyer displays the shiny, futuristic cabinet with little to no information about the game. By contrast, the back of the flyer is dedicated to the game's play, interface, and hardware. Even on the back of the flyer, however, the cabinet remains a key selling point. Note that they refer to the system's computer as its "brain box." That the simplicity of the machine's components is a major selling point should be no surprise; operators often performed their own repairs, and video games presented a major, often expensive, change to the hardware.
Released by Nutting Associates, Computer Space was the first commercially sold video game, and was actually developed by Atari cofounders Nolan Bushnell and Ted Dabney.