A few months ago, I started putting together a symposium on the intersection of games and emotions. That symposium, now titled "Feeling Games," is happening in a couple weeks here at Illinois Tech.
You can see the full schedule of the event here at the Illinois Institute of Technology by the Department of Humanities, the Humanities and Technology Lab (HaT Lab), and Galvin Library with additional sponsorship from the Lewis College of Human Sciences, the College of Science, the Department of Computer Science, and the Department of Psychology.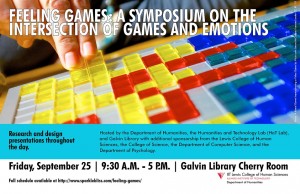 The event is bringing together games researchers and designers not only from universities across Chicago, but is also bringing in a few from elsewhere in the U.S. Feeling Games is free and open to the public, but space is limited, so if you're planning on coming, I recommend showing up early and getting a seat.